Little Nightmares is a video game franchise created by Tarsier Studios and published by Bandai Namco Entertainment. The main series consists of two 2.5D platform adventure games. In addition, the franchise includes a mobile game developed by ALIKE Studios as well as two comic series. A TV series was also planned for the franchise, though its status is unknown.
List of video games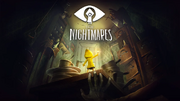 The first game of the series. Released on April 28, 2017 for PS4, Xbox One, and PC, May 18, 2018 for the Nintendo Switch, and June 1, 2020 for Stadia. Players get to play as Six, the protagonist of the game. Her goal is to escape the Maw while avoiding it's monstrous entities.
A DLC for Little Nightmares, consisting of three chapters - The Depths (released on July 6, 2017), The Hideaway (released on November 9, 2017) and The Residence (released on February 22, 2018). In this DLC, the protagonist is a boy named the Runaway Kid, a new and different character who also attempts to escape the Maw while exploring through brand new areas.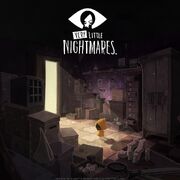 A spin-off mobile game of the Little Nightmares series released on May 30, 2019 for iOS and December 10, 2019 for Android. The game has a different gameplay style, being a puzzle-themed escape room. Players have to tap the screen to move the character and interact with objects. Players get to play as the Girl in the Yellow Raincoat as she tries to escape the Nest while uncovering it's sinister secrets and avoiding the threats inhabiting it.
The second game of the series. Released on February 11, 2021 for PS4, Xbox One, PC, Nintendo Switch, and Stadia, and August 25, 2021 for PS5 and Xbox Series X/S. Players get to play as Mono with their AI companion Six as they navigate through the Pale City to reach the Signal Tower while avoiding the monstrous residents.
Other media
Comic series
Published on May 31, 2017 (Issue 1) and July 26, 2017 (Issue 2). Just like the game is based and named after, it revolves around Six and her attempt to escape the Maw. It is initially going to have 4 issues, however, issues 3 and 4 were cancelled, leaving only two issues for the comic series.
A Little Nightmares II-themed comic app was published on January 13, 2021 (Episode 1 and Episode 2), January 27, 2021 (Episode 3 and Episode 4), and February 10, 2021 (Episode 5 and Episode 6). It has 6 episodes, all revolving around children and their adventures throughout the Pale City where they have to deal with harsh monsters in the world of Little Nightmares.
Television series
A planned TV series based on the game Little Nightmares. It is unknown whether it's still in-development or it's been cancelled.